Last chance for a year-end tax-deductable charitable gift for your favorite educational 501c3 non-profit.
The Top Educational Non-Profit for Your Year-End Giving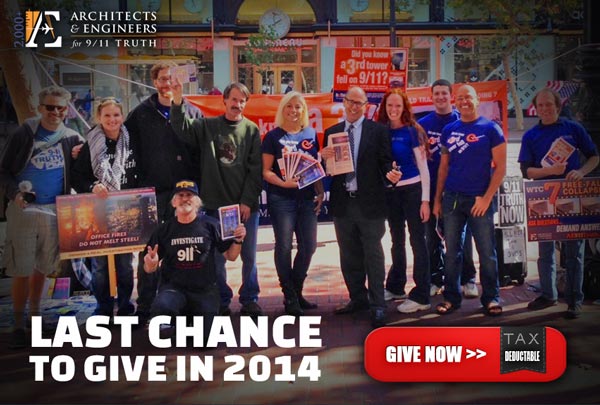 Dear Friends,
I hope that the New Year brings into reality your passionate dreams for our country. Along with that hope, I invite you to make the very most of your 2014 year-end tax-deductible charitable contributions and thereby help us achieve a breakthrough 2015.
We do need your support at this time, for we are planning to make 2015 the most ambitious year of 9/11 Truth projects ever.
Please donate to AE911Truth today.
Our valuable work is funded only by the community of 9/11 Truth supporters. No one helps us but you. Your generosity so far this year has empowered us to achieve numerous important accomplishments, including the following:
And sooooo much more!
Our bold agenda for 2015 is to increase, from 2,332 to 3,000, the number of architect/engineer petition signers, and at the same time focus on:
Major US and international speaking tours
Outreach to the A/E community, the public, and mainstream TV & radio
Further 9/11 Truth legal actions
Engaging hundreds of local AE911Truth Action Groups
We count on your amazing support to cover our critical projects in 2015. As a donor, you are playing a direct, active role in our historic efforts to achieve massive public awareness and to secure a real 9/11 investigation. We believe that there is no greater calling today than that of the 9/11 Truth Movement. Exposing to all Americans the World Trade Center controlled demolitions — and the grave implications of pre-planted explosives — is the only way we see to stop the ever-continuing 9/11 wars, restore our constitutionally guaranteed civil liberties, and set our country back on the course of chartered by our founding fathers. AE911Truth is at the forefront of this movement. Please take this final opportunity in 2014 to make your tax-deductible donation to this cause.
We intend to continue speaking throughout the world to present the WTC evidence and enlighten architects and engineers, members of the media, and government representatives. We will also continue to translate all our works into other languages to reach the broadest worldwide audiences.

Please take a moment right now to show your dedication to the 9/11 Truth issue, and remember to support us throughout this next critical year. Your contribution may very well provide the necessary push to wake up enough people to save this country.
With gratitude and warm wishes for you in this New Year,
Richard Gage, AIA
Architects & Engineers for 9/11 Truth
P.S. If you are unable to donate, you might consider helping us by joining our team as a volunteer on one of our dozens of work teams or Action Groups!