"The architects who take our courses are wary, because they've heard controversial and contrary points of view. They listen very closely, but, understandably, they don't feel comfortable speaking up in front of their peers."Richard Gage
Architects Receive AIA Continuing Ed Credits and Want New Investigation
The latest of AE911Truth's four recent opportunities to educate groups of architects occurred last month when CEO and founder Richard Gage was invited to the Los Angeles office of a large architecture firm to present "The Third Tower—Solving the Mystery of World Trade Center Building 7," a for-credit course approved by the American Institute of Architects (AIA). The course analyzes the cause of the 47-story building's seven-second symmetrical fall on the afternoon of September 11, 2001. Gage is a long-time member of the AIA.
Albert Sawano, a principal of architecture and engineering firm Harley Ellis Devereaux Corp., had requested the presentation on the basis that high-rise failures impact the design work done by many of the 100 architects and engineers employed in HED's LA office. Twenty-nine architects took the April 21st course, earning one AIA learning unit for completing it.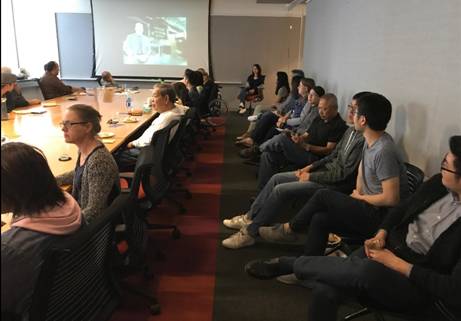 HED was founded in 1908 by architects Alvin E. Harley and Norman S. Atcheson. Its more than 130 architects and engineers are based in four California cities (Los Angeles, Sacramento, San Diego, and San Francisco) as well as in Chicago and outside Detroit.
Most of the 29 architects in attendance had not known of WTC Building 7's destruction, even though it was one of the three worst—and most unusual—structural failures in modern history. (The other two were the World Trade Center's Twin Towers earlier in the day.) By the end of the LA course, 90% of those surveyed agreed that a new investigation is needed.
"We ask those we educate to also consider cosponsoring our resolution, which requests the AIA to call for a new WTC 7 investigation," explains Gage.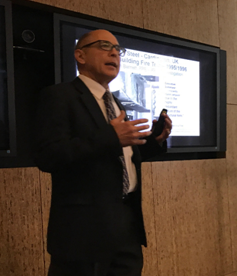 Gage's presentation, "The Third Tower – Solving the Mystery of World Trade Center Building 7," to HED architects in Los Angeles was the live version of AE911Truth's on-demand course, "9/11: An Architect's Guide – Part 1." Parts 2 and 3 focus on the explosive and incendiary destruction of the Twin Towers.

Gage has traveled across the country to educate members of architectural firms and AIA chapters about the collapse of World Trade Center Buildings 1, 2, and 7. These presentations give architects the opportunity to learn about the evidence they have not heard about from either the AIA or the American Society of Civil Engineers (ASCE) — or, for that matter, from the National Institute of Standards and Technology (NIST), the government agency tasked by Congress with explaining the failure of the three WTC towers to the American people.
Other recent venues where Gage has taught live courses include the Boston Society of Architects (BSA, an AIA chapter) in December 2016, the Architecture Boston Expo (ABX) in November 2015, and Mobile, Alabama (an AIA chapter) in January 2017.
At ABX, 60 architects attended the AE911Truth "Learning Center" session. When asked at the end of the presentation whether they agreed with the need for a new investigation of WTC 7, the vast majority of them raised their hands.
In Mobile, Alabama, Gage had 50 architects at the breakout session. At the conclusion, when he asked how many thought a new investigation was warranted and only half of them raised their hands, he started to get worried. He then asked how many thought a new investigation was not warranted and, to his relief, only two people raised their hands.
Since December 2016, the AIA members in attendance at these events always receive credit that counts toward maintaining their membership and architecture license. Credits earned upon completion of this course — and the other courses offered by AE911Truth — are reported to AIA's Continuing Education System. For architects who are not AIA members, AE911Truth provides them with a certificate of completion.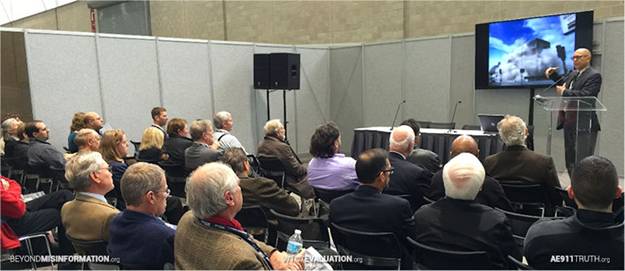 Richard Gage, AIA, demonstrated to 60 architects at Boston's ABX convention how the structural failure of WTC 7 could only have been a result of controlled demolition.
In general, Gage finds the architects very quiet. "They're wary," he explains, "because they've heard controversial and contrary points of view. They listen very closely, but, understandably, they don't feel comfortable speaking up in front of their peers.
"We find most of the participants agree that a new investigation is necessary after looking at the evidence — after becoming informed," Gage says. "As we've seen in each of these opportunities, they tend to call for a new investigation."
Gage says the architects ask excellent questions, which can range from "How could people have gotten into the building to place explosives?" to "Why didn't NIST examine the contents in the debris for explosives or incendiaries?" When replying, he explains that NIST at first claimed it found no evidence for explosives — but later admitted it never looked for explosives. No one (other than the perpetrators of 9/11) knows the answers to these questions, Gage observes, because there has never been an open, honest, impartial investigation.
AE911Truth believes any investigation should begin with Building 7, since, as Gage notes, "Architects are more open-minded about Building 7. This collapse doesn't have the emotional trauma associated with the Twin Towers. It doesn't have jet fuel and airplane damage.
"A good reason they're willing to listen to a discussion about Building 7," he continues, "is because they're humble relative to their inadequate knowledge. Which raises the other question: 'Did the AIA produce any reports on the third tower that came down?'
"The answer is no. The AIA produced and distributed nothing at all about the collapse of Building 7. That's why most architects know nothing about it. We are doing the AIA's job by informing its members."
At some of the presentations, Gage is talking to young, would-be building designers. "We've been to 50 university campuses in order to educate technical and non-technical students," he says. "We'd be happy to go to architectural colleges to make sure their students are educated on 9/11 as well. The goal is to have them not be among the majority of architects who don't even know about Building 7, one of the three most significant structural failures in modern history."
AE911Truth offers six courses that educate architects about the World Trade Center building collapses. There are several ways to take them. Gage can give in-person presentations at architectural firms or AIA chapters, or they can be taken on-demand by individual architects online. Additionally, for smaller venues, AE911Truth will teach live courses virtually, in webinar format. Hundreds of architects have attended the courses thus far, but there are thousands more still to be reached.
For more information, write to Continuing Ed, call (510) 292-4710, or visit http://www.ae911truth.org/continuing-ed.html.
The free on-demand three-part series on the destruction of the three World Trade Center buildings is available at http://www.ae911truth.org/continuing-ed/ae911-aag-od.html.
To invite AE911Truth to give a presentation, email us here.